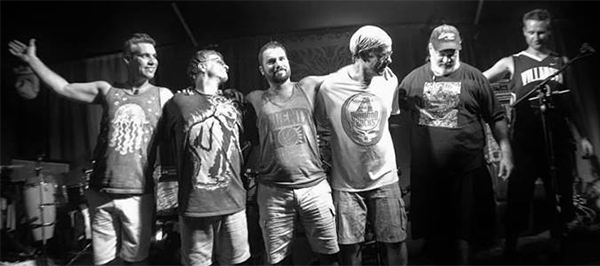 ---
 THE NOODLES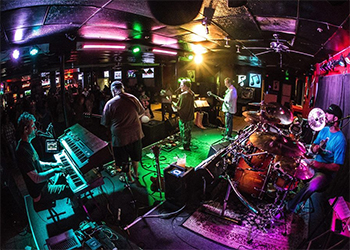 Sometime around late '95 early '96, Kim Ladd and John Reuter met and started hanging out as fellow Deadheads for Friday happy hours at the local bar "Casey Moore's" in Tempe, AZ. One summer evening in '96 after a few drinks, Kim says "I used to play rhythm guitar in a bluegrass band" and John says "I used to play lead guitar in a Grateful Dead band, let's go to my house and Noodle".  The rest is history.
1 1
They "Noodled" together a few times and soon talked a friend (Kris Olsen – a fellow instructor at Roberto-Venn) into playing bass. Next they found a drummer and started digging into the Dead's repertoire. It wasn't long before someone suggested they look for a gig somewhere. John was apprehensive about the idea because of his lack of fingers on his fretting hand due to a woodworking accident (see JR's bio). The Band suggested a show in John's back yard by invitation only to Deadhead friends and John agreed.
The backyard show in March of 97 went over well with the crowd so John approached someone he knew who owned a club up the street. John asked the owner if the band could play every other Sunday afternoon from 3-7 PM before any night act would show up for the evening slot. Gina, the owner of the Sail Inn in Tempe, agreed to give it a try. Within weeks there were 100+ people coming to the shows and the band decided to start playing every Sunday. The Sail Inn was happy with the turnout and The Noodles were happy to have a place close to play.  They have played in many clubs on Fridays or Saturdays but always play their "Sunday Church" as the crowd has called it for years. Sometime around 2001 there was a dispute with Gina's partner over one of the local Deadhead vendors selling glass pipes at the shows and he said no more vendors. The Noodles found another place to play.
Nita's Hideaway was the hoppin' rock club in Tempe for local and national acts at the time for a medium size crowd (up to 200 people). They were familiar with what The Noodles were doing and loved the idea of having a band that could draw a crowd in a time slot in which they were typically closed. It was a perfect fit for The Noodles. The promoting was better and Nita's had a monster sound system in place already. The band had been bringing in their own sound system every week to the Sail Inn.
Nita's was torn down in 2004 to make way for a giant megaplex shopping center. Mark, the owner, had bought a new place a couple miles away that could hold 1100 people. Such a large room with only 100+ people in it lacked intimacy and so The Noodles looked for a new venue.
Gina, a minority owner of the Sail Inn and who ran the music side of the business, was forced to sell the Sail Inn by her partners in the middle of 2006 but within months bought into another club in downtown Tempe, The Loft. The band moved their Sundays there for a while, but Gina was forced out a couple of years thereafter in the summer of 2009 because the other partners wanted to turn the club into a Hip-Hop scene.
The band soon ran into someone who owned a place called Club Red who was also familiar with the band's capabilities. The owner, also named Kim, booked The Noodles for their "Sunday Church" in the smaller of his two adjoining clubs, The Red Owl. After a couple of months he decided to move the band to the big room Club Red. Great room, great sound system but because the club was not located near downtown, attendance had fallen off.
After leaving the Sail Inn in the summer of 2006, the new owners had tried to open as a new club called "Trax" that had failed after about a year. After sitting empty for years, Gina was now able to lease the club back in January of 2009 with the help of a new like-minded partner Rico and re-establish the music scene in downtown Tempe. The music was originally performed inside at the Sail but a renovation had built a beautiful large band shell and stage outside. Whenever possible, "Sunday Church" was an outdoor event. The inside stage was also moved to a better location and the club became the new destination for small national acts as well as a local band haven.
After a memorable closing weekend in June of 2014, The Sail Inn was shut down and slated for alignment with the gentrification of the Farmer Arts District.  Local live music would need to find alternative means once again.
That summer, Gina partnered with a like-minded gentleman at Cactus Jack's Bar & Grill in Ahwatukee, and as their music director, invited the band to continue its Sunday tradition uninterrupted.  With a stage built to their specifications, the Sunday tradition of The Noodles continues to this day starting around 4:20 PM.
1 1
---
JOHN "JR" REUTER
Co-Founder of The Noodles
Lead Guitar & Vocals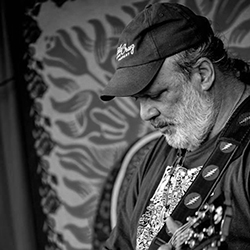 I started playing guitar in Oct of 1983 after being encouraged by my roommate for years. I always told him that there were two things I would never be: a musician or a teacher.
A Musician: I had a bad experience with music at an early age of 12 when I was forced to learn classical piano. I always just wanted to play the popular hits of the time like "Wendy" or "Hey there Georgie Girl". I even played violin for a year or two as a child but was more interested in sports than music.
1 1
It was all about sports for years as football, baseball, and tennis consumed my time through high school. After leaving the parent's home, my roommate (a guitar player) became fans of tossing around the Frisbee. In November of 1979 we saw some guys in the corner park doing some Freestyle Frisbee; spinning the disc on their fingertip and doing all kinds of acrobatic moves. We were both taken aback and immediately introduced ourselves. From that day forward, this gang of new found friends immersed themselves in playing either Frisbee freestyle or Frisbee golf sometimes as much as five hours a day.
The friends it turned out, happened to be "Deadheads" and we were quickly converted. I was soon going to every Grateful Dead or Jerry Garcia show I could find after seeing my first show at Compton Terrace in 1980. In October of 1983, while waiting for my roommate to come home from work, I heard a song with a simple swingy reggae feel and told him when he got home "I can play that, teach me that". Two weeks later I bought an acoustic guitar then again 2 weeks after that, an electric guitar.
Now a musician, I began focusing my energy on playing and started a band with friends (Barking Spiders: John Reuter-lead guitar, Tommy Bohn-Rhythm guitar, Alan "Skipper" Clark-Bass, Gene Siegal-Drums). Soon we meet up with a previous acquaintances that had recently moved back to Phoenix (Don Young) and partner (Valerie Sack) who called themselves "No Hobo".  The Grateful Dead was a mutual interest and sometime in 1985, we merged to become No Hobo and the Transient Band.  We were joined by keyboardist Steve Hunt and percussionist Tim Rogers. The No Hobo pair were professionals but the rest of us had never played a gig before. That would soon change. We were soon hired to play Arizona's first Grateful Dead night every Tuesday. After playing in a few different clubs we landed a coveted Thursday night gig at Tony's New Yorker that became our mainstay for years to come.
In June of 1988 I had an unfortunate accident at the guitar school that forced me to leave the band. The accident with a joiner amputated some of my fingers on my left hand leaving only the ring finger intact. Fortunately, during surgery, the index finger was able to be rebuilt with a bone and skin graft, but leaving the outer knuckle inflexable. The band was devastated but continued to play for many years and eventually morphed into what is Xtra Ticket; another favorite of Arizona's Grateful Dead scene and continues to play to this day.
The accident also broke my right thumb so I was in a cast on each hand for five weeks. I put a slide on the one finger sticking out of the left cast and fingerpicked with the right. When the casts came off, I started playing bottleneck slide and lap steel with my wife Valerie at clubs for the next 6 years. I also decided to build a left handed guitar and re-learn to play but soon became frustrated at what I couldn't do anymore. I tried a pedal steel but found that equally frustrating. In 1994, frustrated, I stopped playing altogether angered by my inability and limitations only playing slide guitar.
A Teacher: My father was a professor at Arizona State University and was such a book worm that he was always in his study. I was always a hand's on guy who had worked with my Uncle during summers in Rochester, NY doing carpentry as early as 7 years old. Another Uncle in Iowa had a lathe in the basement which reinforced my love for woodworking. He would laminate and turn exotic woods into bowls and goblets and spin baseball bats to play with.
Around the age of 13, my mother signed me up to take woodworking classes with her at Community College. After High School, I was expected to go to College but not knowing what direction I should go, I floundered for a few years until changing my major to Manufacturing Engineering. I finished my Degree in 1982, all the while working in machine shops and playing Frisbee in my spare time. In the fall of 1983 my employer closed up shop and I found himself with nothing to do but pursue my new interest – guitar.
In May of 1984 a good friend told me that he was renting a room to someone that was going to a guitar making school in town. The Roberto-Venn School of Luthiery. I jumped up and said "I need to meet this guy". After seeing the guitars that he had made, I enrolled in the school the very next day. Four months and 3 guitars later I was simply unable to leave after graduation. I decided to stay on and help the next class as an assistant. My woodworking experience and degree in making things (Manufacturing Engineering) came in real handy. After 2 more difficult guitars and the second class, I was still not ready to leave. I stayed on to help with yet another class and experiment with some different building techniques and build a double neck acoustic guitar. At this point the owner and main instructor of the school was unhappy with the current shop instructor; letting him go and handing over the instructor's position to myself and another graduate student who were both proving themselves to be very good  builders. By 1985, I had now become both a teacher and musician. The two things I said I would never be!
In 1989 the owner of the school made me the Head Instructor and Director of Training of Roberto-Venn. To date, I have taught over 1000 students and have been building, repairing and teaching for over thirty years. My guitars have been featured on the covers of Frets and Guitarmaker magazines and been featured in many of the leading guitar publications. I have made instruments for notable players like Jorma Kaukonen, Jerry Garcia, Stevie Ray Vaughn, and Elizabeth Taylor's son.
Equipment
Guitar: Custom John Reuter guitar.
Copy of Jerry's Tiger guitar
3 Dimarzio Super II pickups
Roland GK-2 synth pick-up
Effects loop: pre volume & tone control (can be bypassed w/ mini switch)
CAE Jangletone unity gain line driver
Series/Split/Parallel mini switch for neck & middle pickup
 Pedal Effects:
Boss LS-2 Line Selector Power supply & Master bypass switch
Boss OC-2 Octave divider
Mutron III envelope filter
MXR Phase 90 (Script logo)
Ibanez TS9 Tube Screamer
Boss DS-2 Turbo Distortion
Boss DD-6 Digital Delay
Hub Bub junction box (modified to add A/B capability)
Rack Effects:
Korg DTR-1000 Tuner
Furman PQ4 Parametric Equalizer
ADA D640 Digital Delay
ART SGX T2 Multi Effects Processer
Small Rig
Amp

1971 Fender Twin Reverb Silver face (with master volume) 100 watts
2 6L6 power tubes (2 power tubes removed)

Speakers:

2 JBL D-120F 8 ohm 12" speakers wired in parallel (4 Ohm)
Large Rig
Amp Head

1968 Fender Twin Reverb Silver face (no master volume) 85 watts
2 6L6 power tubes (2 power tubes removed)
Custom Baltic Birch ¾" ply cabinet (John Reuter)

Speaker Cabinet

2 JBL K-120F 8 ohm 12" speakers wired in parallel (4 Ohm)
Custom "Herd Truckers" style
Baltic Birch ¾" ply cabinet (John Reuter)
1 1
---
TODD ANTHONY BOLSER
Drums & Vocals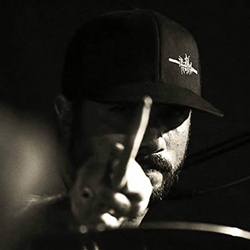 I was five years old and enthralled with magazines depicting these larger than life rock and roll figures like Gene Simmons of KISS, Eddie Van Halen, and Neil Peart of Rush.  I would begin to collect comic books, View Masters, Color Forms, posters, and embark on a love of music that would be the cornerstone of my life socially and spiritually to this very day.
1 1
On a 1969 Rogers 5-piece on loan from my uncle (later I would simply lay claim to it since he no longer found it useful), I began playing alongside Alex Van Halen and the aforementioned Peart as cassettes blared from the addition of my parent's home.  All the older neighborhood kids would all hang out and watch me play.  This was 1982.
As my early rock influences developed into a finer sense of musical reverence, I fell in love with Led Zeppelin, Jimi Hendrix, Neil Young, Bob Dylan, and eventually the Grateful Dead in my mid-teens.  Forming Wayward Buss in my late teens with a group of dear Deadhead friends, I began to hone my skills as a performer/entertainer.  I learned early on the heights to which music could take me, and the sense of community the Grateful Dead provided.
Longing for that sense of family evading me since a family tragedy in 1983, the Grateful Dead became a natural catalyst for my love of music and a comfort zone to become enmeshed.  I would trek to Columbus' Buckeye Lake Music Center on June 9, 1991, just barely 17, in the back of my dear friend Eric Kuglin's pickup truck, and witness 60,000 loving each other amidst the backdrop of some of the most beautiful music one could ever hear.  And so it began, my 24-year love affair that has brought countless friendships and more joy into my life than I could have wished for.
Joining Cleveland heavyweights Sugar Magnolia (featuring Eric Sosinski of WNCX 98.5 and Michael Stanley Band fame) in 1998, I was fully engaged in a solid Grateful Dead project.  The band performed four sold-out shows each year at The Odeon in Cleveland's historic East Bank of the Flats District.
The allure of the West called me in an earlier trip to Flagstaff and Phoenix in 1994.  I knew I would eventually settle there.  In 2002, I could no longer resist the calling.  After graduating from ASU in 2007, I stumbled into The Loft off of Mill Avenue, encountering a boisterous elder hippie at the door questioning my acumen of the Grateful Dead.  Dan Dan, the doorman asked if I really played the drums or if the shirt I was wearing was some sort of "schtick."  My tie-dye read "Drummers Are Better Lovers," given to me by a dear ex-girlfriend.  At the time, I didn't conceptualize how much my shirt matched my inflated ego.  Gratefully, I have long since been knocked off my high horse (pun intended).
I asked Cory Yardley, the Noodles fill-in drummer for the day if I could sit in for a couple at the behest of Dan Dan.  A brief hello to the "Jerry" of the band, John Rueter, and we were off in the second set.  What was supposed to be a couple songs has turned into countless hours driving the bus in Arizona's longest-running Grateful Dead party.  Now, in my ninth year in the band, I am so grateful to be a part of this community, I enjoy the connections and adventures we all share, and look forward to many more synergistic experiences onstage and beyond.
EQUIPMENT
-Pearl Masters Classic Eight-Piece (8×8, 9×10, 10×12, 11×13, 14×14, 16×16 toms, 5.5×14 snare, 22 kick)
-Six ply all-maple shells
-Remo Weatherking Ambassador heads
-Pearl OptiMount Suspension System
-Quilted Bubinga Sunburst finish
-Gibraltar cage rack
-Zildjian A-Custom 14" hats, 14" Fast Crash, 16" Crash, 18" Crash, 20" Medium Ride, 8" Splash (2), 14"          Agazarian China
-Vic Firth Sticks, preferably 7B
1 1
---
Kim Ladd
Co-Founder of The Noodles
Rhythm guitar and vocals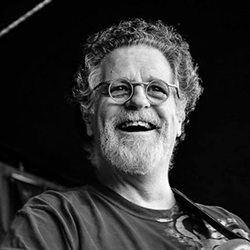 My first instrument was the drums and I played for about seven years as a child in Germany. My musical influences at that time were Cream, Led Zeppelin, Jethro Tull and the like.  Upon returning home to the states I began to listen to Delta and Chicago Blues, becoming enamored with the guitar; so I got one and learned to play by ear for the most part. 
1 1
It was shortly after I began playing guitar that I heard the Grateful Dead's Europe '72 record and shortly thereafter I saw the Dead for the
first time
in Tampa, Florida in 1973 at the Curtis Hixon Convention Hall.  Little did I know at the time, this show would be highly-revered by late Grateful Dead archivist, Dick Latvala, and forever heralded as Dick's Picks Volume One.  It wasn't until I moved to Arizona that I saw my second show.  That must have been '75 or '76. I was hooked; on the bus, if you will.
J.R. and I got together at a happy hour 19 years ago.  After several drinks we went to his house to" Noodle" a bit.  The next week we added a bass player and within a few weeks after that we were joined by the first of many drummers.
We've been at it ever since.
I love playing this music. I love listening to this music and I love the people that this music has brought into my life.
1 1
---
JOE DAILEY
Percussion & Harmonica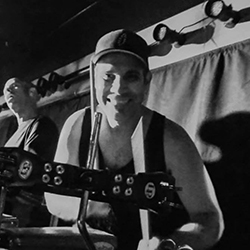 I began my journey in New York City.  As a child I had a passion to BANG.  I found the rhythms of the Congueros in Central Park intoxicating.  I would spend hours hanging in the park soaking up the sultry sounds of Cuba and Puerto Rico.
I scored my first set of congas and bongos direct from the factory from LP Studios in Garfield, New Jersey in 1986.  I still play those same drums to this day.
1 1
Afro Jazz was my backbone, but rock rhythms made up my skin.  Early influences include Jimi Hendrix, Santana, Allman Brothers Band and of course the good old Grateful Dead.
I saw my first show at Saratoga Springs, N.Y. On June 27, 1985; too many beautiful memories to mention.  I will say this, "It changed my life profoundly."  I'd like to thank the Boys for opening my mind's eye in directions I could not have imagined nearly 30 years ago when all this began…
Equipment:
LP Drums & Percussion, DW Hardware, Lee Oskar Harmonicas, Shure Microphones, Danelectro Amps
Bands:
Dryer Bros. / Electric Jellyfish (1987-1989)
Buddha Base Process (1991-2001)
Horticulture (2002-2006)
Gelatinous Groove (2005-2008)
Shared the stage with:
Warren Haynes (Allman Brothers Band/ Govt. Mule), Michael Kang (String Cheese Incident), John Popper (Blues Traveler), Tetsuy "Tex" Nakamura (War), and Barry "the Fish" Melton (Country Joe & the Fish).
1 1
---
Paul Reside
Bass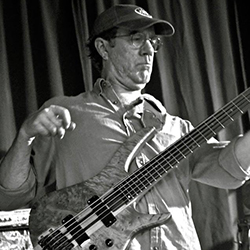 I started playing bass around 1977 or so when I was a sophmore in high school. At the time my taste in music was terrible, stuff like Kiss and Ted Nugent; basically, whatever my friends were into. They all played guitar and no one played bass, so… Here I am. Luckily my older brother moved home from college that year. We were pretty much strangers but he brought a huge record collection and he had excelent taste in music with Jeff Beck, Stanley Clark, CSNY, Yes and more. I was hooked. 
1 1
In 1980 I attended Berklee School of Music for 3 semesters and fell in love with Jazz but could not continue my education there. I did a couple of semesters at East Connecticut State and found the Dead. I was never a "Dead Head"… still not, but I always found the idea, the spirit of the Dead fascinating both musically and as an alternate way of constructing a society of like minded souls.
I stopped playing Bass in the mid 90's while living in California and picked up the
Chapman Stick
. In order to focus my energies, I sold all of my bass gear and would not own another Bass Guitar until almost 2006. I had begun to go see that this band called The Noodles at
The Sail Inn
and enjoyed talking to JR the lead guitar player and Guy Ivester the bass player. Around this time I bought a 5 string bass and got back in the game learning Dead tunes cause it seemed fun. After about 3 or 4 months when I started to feel at home on bass again Guy asked me to sub for him. I still have nightmares about that gig but it provided a strong motivation to get better.
Around 2007 or so, Guy took a spot as the bass player for
Xtra Ticket
and JR asked me to get on the bus where I have been having a blast ever since. My 2 primary instruments are an all stock 1967 Guild Starfire and my pride and joy a custom 6 string built by our very own JR…
Reuter Guitars
. I built my own speaker cabs and use
Genz Benz
heads.
1 1
---
Elliott Jackson Rauch
Keyboardist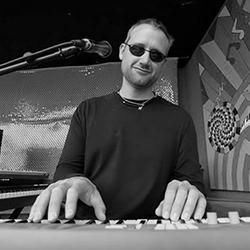 Keyboardist Elliot Rauch comes to the Noodles having grown up with Brent Mydland as one of his keyboard heroes.  On any given Sunday, says Elliott, "channeling Brent is the goal!"   In addition to playing with THE NOODLES, "E"'s keyboard posts include the challenging keyboard responsibilities for the Arizona and Las Vegas Pink Floyd tribute act THE GREAT GIG IN THE SKY.
1 1
In addition to Great Gig, Elliott has had the pleasure of playing with Native American reggae legend 
CASPER LOMA-DA-WA 
at the New Orleans Jazz Fest and Washington DC's Kennedy Center, among others.  Locally, Elliott serves as Musical Director of both Prescott's 
Center for Spritual Living
and
Prescott Valley Performing Arts,
which most recently performed
The Rocky Horror Show.
1 1
---